1930's Farnsworth TV Reproduction 
1930's Farnsworth Hand crafted TV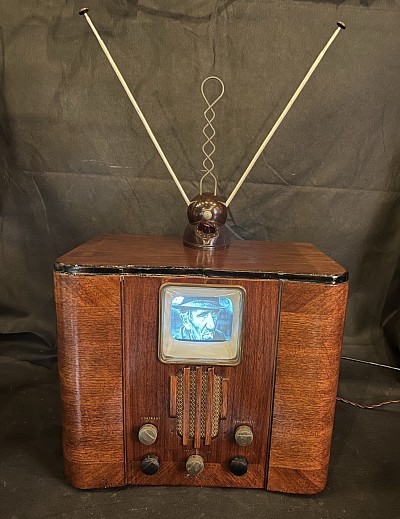 1930's Farnsworth Prewar Black and white TV reproduction, hand crafted, has B/W picture tube 4.5" and solid state circuit board. All the knobs functionality works well as it's stated on the cabinet. 
Totally original prewar TVs runs $16-20k , but reproduction made perfectly and looks like original and cost much less. No second unit of that TV you'll find, it's not easy to make it and a lot work has been involved. 
You'll love to have watch that historical look TV, and have that feelings how people watch it in that era.
Bonus Incudes :
HDMI to RF modulator 
Fire TV stick 
Vintage antenna 
——
Warranty one year , but this tv may work another many years without any services.

Available, Price $2250 
——
Watch YouTube video below 👇🏻 


Little about Philo Farnsworth 
Farnsworth made his first successful electronic television transmission on September 7, 1927, and filed a patent for his system that same year. Farnsworth continued to perfect his system and gave the first demonstration to the press in September 1928